Dalton A. Thieneman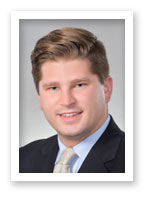 Associate
dalton@shortstrategy.com
Dalton Thieneman joined Short Strategy Group as an Associate in August 2016. His primary duties include monitoring state legislative activities, analyzing bill data, and researching public policies on behalf of the firm. He previously worked for the Indiana State Senate Republicans as a Legislative Assistant for members of the Majority Caucus. In this role, he interacted with constituents, states agencies, and special interest groups to facilitate, monitor, and resolve statewide and district specific issues.
Dalton has devoted his time and talent to numerous civic and nonprofit organizations, and he is continually seeking leadership opportunities. He serves as the Marketing Coordinator for the Indianapolis Bar Association, and he plans on applying to the Indiana Leadership Forum. He has provided advocacy and fundraising support for the ALS Association chapters in St. Louis and Indianapolis. He has also volunteered with several political campaigns at the local, state, and federal levels.
Dalton is currently pursuing his law degree at Indiana University Robert H. McKinney School of Law and is scheduled to graduate in December 2017.
He is a member of Southeast Christian Church and resides in downtown Indianapolis.
Education
Saint Louis University
Bachelor of Arts Degree in Legal Studies and Philosophy: Law and Society
Saint Louis University Madrid Campus
College of Arts and Sciences Study Abroad Program
Indiana University Robert H. McKinney School of Law, Indianapolis
Doctor of Jurisprudence Degree
Expected Graduation: December 2017
Civic and Community Involvement
Marketing Coordinator of the Indianapolis Bar Association
Member of the Downtown GOP Club of Indianapolis
Member of the Saint Xavier Alumni Association
Member of the American Bar Association